---
---
This brilliant tool will make all your DIY sewing projects extremely easy!
Quickly add elastic cords and ropes to your jumpers, pants, skirts, and bags.
It grips the elastic ribbon, drawstrings, and cords so you can easily replace or add them as needed. The clips are designed with special teeth that grip securely and hold tight with a sliding ring.

Suitable for changing or adding drawstrings, such as sports pants, yoga clothes, hoodies, jackets, sweatshirts, etc. A very practical tool for DIY craft lovers.
---


✅Save Time And Energy:
The flexible rope threader can help you save a lot of time, provide a lot of convenience and practicality, and will not damage your clothes.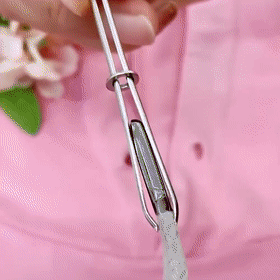 ✅Wide Range Of Applications:
The threader can easily and quickly grasp the cord for threading rope, elastic, yarn, shoelaces, etc. Suitable for various multifunctional sewing crafts, a good helper in daily life.


✅High-quality Materials:
It is made of metal material, which is not rusty, not easy to bend, and it is wear-resistant. It is an essential tool for daily home use. Easy to use, can be used for a long time, to help you make your craft work easy and quick.


✅Easy To Carry:
It is light in weight, small in size, and does not take up space. It can be carried with you in your pocket or backpack. It also solves the need for quick rope threading in case of emergency rope replacement.


How To Use:
Move the ring, loosen the clip part of the rope threading device, clamp one end of the rope, then move the ring, and tighten the clip, you can wear the rope, wear the elastic band.


Specifications:
Product Weight: 5G
Product Size: 8cm
Package Contents
DIY Rope Threader Clip × 1 pack (5pcs)
Material: Metal
Please allow 10-24 business days for the item to arrive. Please note: due to the ongoing global COVID-19 pandemic, some minor delays in product delivery are possible, we are doing our absolute best to make sure you get your products as soon as possible.
---