---
---
Now you can easily sharpen your chainsaw without dismantling it!. This tool provides a fast, simple, and portable sharpening method. The stone is directly mounted into the sharpening tool for an easy sharpening experience. In just 3 to 5 seconds your chainsaw will be sharp and ready to use!
---

Only takes a few seconds: 
Do you know what the problem with all of our cutting tools is? They need to be sharpened occasionally. I guess it's not really a problem so much as a hassle, but what can you do? Sharp teeth cut, dull teeth don't. This chainsaw teeth sharpener makes it easy to sharpen your chainsaw in no time at all.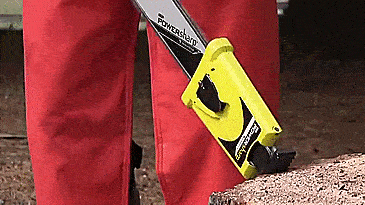 Suitable for all types of Chainsaws: 
Compatible with all sorts of different types of chainsaws, including Stihl, Olympyk, and Oleo-Mac Chainsaws.
Safe to use: The Chainsaw Teeth Sharpener is safe as the sharpener is enclosed in a box-like kit.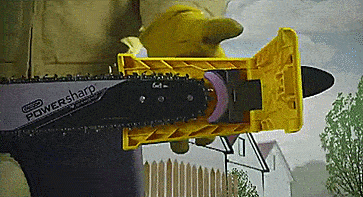 Saves on fuel consumption: Cutting with a dull chain leads to higher fuel consumption and excessive wear. 


How to use:
It is very easy and simple to use: just attach the bar-mount sharpener to the sharp guide bar, the two holes on the top of the bar secure the chainsaw and make perfect alignment for an even result. Then just press the tip of the sharpener to a solid surface and allow it to automatically sharpen your chainsaw in 3-5 seconds.
The Chainsaw Teeth Sharpener is a necessity for anyone who is serious about cutting logs, felling trees, or splitting firewood. No matter how long you're on the job site, your chain is going to get dull eventually. Instead of pitching that chain, why not sharpen it?
Package includes: 
1 Chainsaw Teeth Sharpener and stone.
Please notice: If your chainsaw has only one hole, you need to remove the two-hole fitting, so you can place the single-hole chain into the product.

Please allow 10-24 business days for the item to arrive. Please note: due to the ongoing global COVID-19 pandemic, some minor delays in product delivery are possible, we are doing our absolute best to make sure you get your products as soon as possible.
---