---
---
Say Goodbye To Your Old Damp, Bacteria-harboring Toilet Brush And Hello To Your Newest Helping Hand. With Bristles Made From Anti-bacterial Thermoplastic Rubber, An Easy Reach Long Handle, And A Wall-mountable Or Floor-standing Options To Fit Your Bathroom Layout And Aesthetic. This Amazing Toilet Brush Is The Last One You'll Ever Need!
---


This Modern Toilet Brush Prevents Bacteria From Growing With Its Innovative High-grade Design.


Anti Bacterial Thermoplastic Rubber: If you have old toilet brushes just sitting in your bathroom, chances are bacteria and mold have grown on them over time. In fact, it's recommended to replace these every six months. This modern toilet brush prevents bacteria from growing with its innovative high-grade design and anti-bacterial thermoplastic rubber!


Ultra-Effective Scrubbing: The bristles make scrubbing twice as effective as traditional toilet brushes.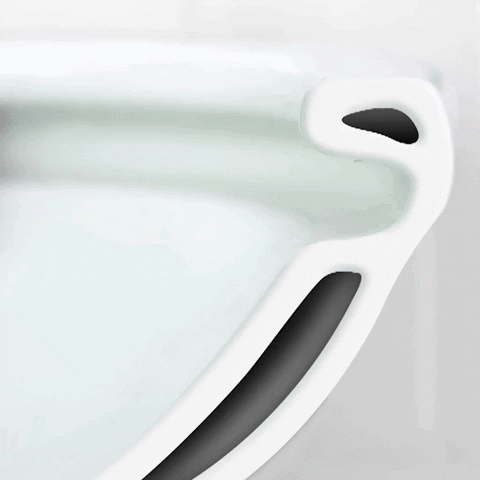 Introducing a modern solution to the grim and gritty world of toilet scrubbing and cleaning.


Easy To Reach Long Handle: A long handle design ensures easy reach for all users.


Wall Mountable Option: Forget about having to move out of the bathroom the toilet brush every time you want to clean the floor, this suspended toilet brush leaves the space free for you to completely clean the floor around your toilet.


Fits Bathroom's Layout & Aesthetic: It comes with wall-mountable or floor-standing options to fit your bathroom layout and aesthetic.


Faster Evaporation: The brush holder features a suspended drain to allow water to drain and evaporate, eliminating moisture and mold build-up. How efficient and convenient is that?


High-Grade Materials​: It's made from a thermoplastic TPR silicone rubber material that doesn't absorb the dirt from the toilet.


Extremely Durable: The brush never wears out or changes its shape, making the brush last for years!


Specifications
Color: White
Size: 41x9x9cm / 16.1x 3.5x3.5 IN
Weight: 320g
Material: Anti-bacterial Thermoplastic Rubber
Package Includes:
1 Toilet Brush and Drain
Please allow 10-24 business days for the item to arrive. Please note: due to the ongoing global COVID-19 pandemic, some minor delays in product delivery are possible, we are doing our absolute best to make sure you get your products as soon as possible.
---