---
---
The "Turntable" Storage Container is an innovative storage solution that allows you to easily browse your spices, cans and other kitchen ingredients.
It has a built in turntable-like disc that allows easy access to anything you put in it. Instead of reaching further into your fridge, just turn the disc and bring the item to you. It's great for people who have bad backs and have a hard time reaching into a deep fridge or cabinet.
---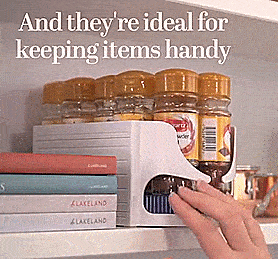 The Creative "Turntable" Storage Container utilizes two mini revolving discs that you can easily turn around with the tip of your finger. And since they're connected, the items that you scroll through will make their way all the way around the edge of the Storage Container. Just keep sliding your finger on the "turntable", and each item will eventually make its way to the front for you to easily access.
The Creative "Turntable" Storage Container is perfect for storing condiments in your fridge, spices in your spice cabinet, vitamins, canned foods, sauces, and pretty much everything in-between. Not to mention all of the things you could use it for in your garage!
Specification:
Product size: 30x16x10cm

Product material: ABS.
Please allow 10-24 business days for the item to arrive. Please note: due to the ongoing global COVID-19 pandemic, some minor delays in product delivery are possible, we are doing our absolute best to make sure you get your products as soon as possible.
---