---
---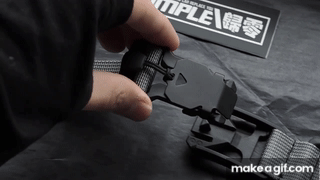 This Belt is a rugged, Heavy Duty belt that you can use anytime, anywhere. it's the last belt you'll ever buy. Each belt has been made with precision, ensuring exceptional quality, the MagnetoBelt™ is built strong, and built to last.
This buckle literally snaps securely together by itself when the two halves of the buckle are brought close enough together, without any conscious effort.
---
Our Unique Magnetic Belt Buckle is a classy and functional replacement for an existing old-school side release buckle. Features a patented design with powerful sealed magnets molded into the high strength, glass-reinforced nylon.
This buckle can effortlessly be closed while wearing the heaviest gloves or mittens, and in total darkness as this buckle makes a very distinctive snapping sound when latched properly.
However, just because it closes easily, doesn't mean it will open easily. Once latched, the buckle remains securely fastened until the pull cord on the stainless steel lever is pulled straight up. 


Features:
Fast magnetic latch

 

– The high tech Polymagnets used in this belt have a stronger, faster, and more accurate alignment than any other magnets available.

Slim buckle design

 

– Unlike most tactical belts, this buckle fits through standard belt loops, slide the belt in and out of any pants without ever changing the adjustment size.
Pivoting latch

 

- A small range of motion has been designed to help the belt move with you for comfort.
Single size

 

- No need to worry about picking the wrong size, simply cut to length, and adjust to size.

One-time adjustment

 

- Stays adjusted to the size you pick until you want to change it.
Specifications: 
Materials: polyester, nylon 
Colors: Black, Khaki,Army Green 
*You can purchase only  the belt or belt with an additional shackle*
Please allow 10-24 business days for the item to arrive. Please note: due to the ongoing global COVID-19 pandemic, some minor delays in product delivery are possible, we are doing our absolute best to make sure you get your products as soon as possible.
---