---
---
This Luxurious Leather Seat Belt Shoulder Cushion will provide you with the most comfortable driving experience ever.

Its premium quality, comfort, and safety features make it a "must-have" for any car owner.

This is also one of the strongest most durable shoulder pads. Its superb quality will last year after year. It's washable without fading, shrinking, or distorting. Nonsticky, no peculiar smell and can be used in all four seasons.
---

COMFORTABLE – The Luxurious Seat Belt Shoulder Cushion will disable the sharp edges off your seat belt so you can drive mile after mile without a sore neck. The pads are very soft and it has the right amount of padding without being too bulky.

STYLISH – The Luxurious Seat Belt Shoulder Cushion comes in 4 stylish colors that fit any car interior.

EASY TO INSTALL –The Luxurious Leather Seat Belt Shoulder Cushion is very easy to install; no tools are required. They have a piece of durable Velcro on the underside that you can simply open, fold over the seat belt and then close again.

VERSATILE DESIGN:
Can be used for car, trunk, jeep, SUV, airplane, can also be used on your handbag, baby diaper bag, golf bag, luggage with a strap, and anyplace else you want padded comfort.

includes:
1pair of Luxurious Seat Belt Shoulder Cushions + Child Car Seat Belt Adjuster
Specification:
Colors: Beige, Black, Brown & Grey
Size: 24cm x 6.5cm
Material: PU Leather
Package includes :2 pcs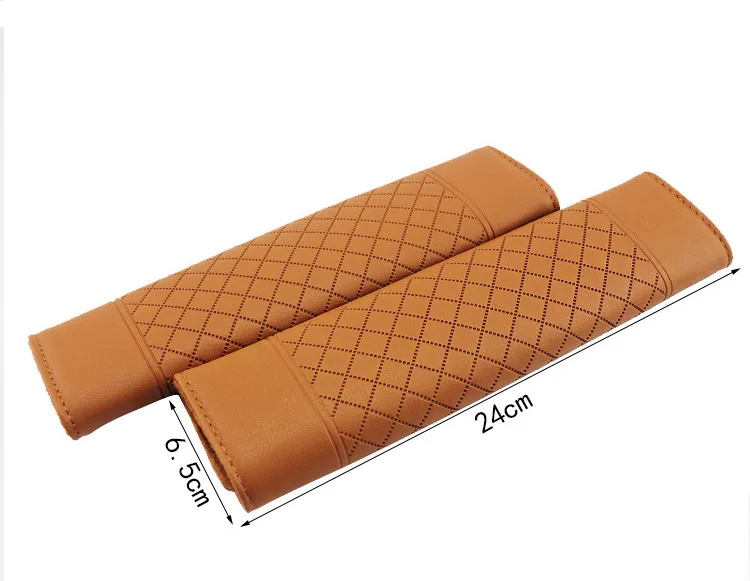 Please allow 10-24 business days for the item to arrive. Please note: due to the ongoing global COVID-19 pandemic, some minor delays in product delivery are possible, we are doing our absolute best to make sure you get your products as soon as possible.
---