---
---

Loosen And Tighten Fasteners In Seconds!
Now You Can Reach The Most Unreachable Narrow Places With The Incredible MagicWrench™ Universal Wrench Extension Which Allows You To Save Energy, Save Time,  Reach Out To Places You Couldn't Before. You can connect your drill to the wrench in one end and it will spin on the other end! It's Light, Compact, And Sturdy Design Ensure The Work Goes Smooth And Efficiently! 
---

Perfect For Narrow Deep Areas: The Wrench Extension will make your job easier by reaching those hard to access nuts and bolts in tight space! Suitable for multiple difficult repair tasks!
Drill Friendly: You can connect your drill to the wrench in one end and it will spin on the other end.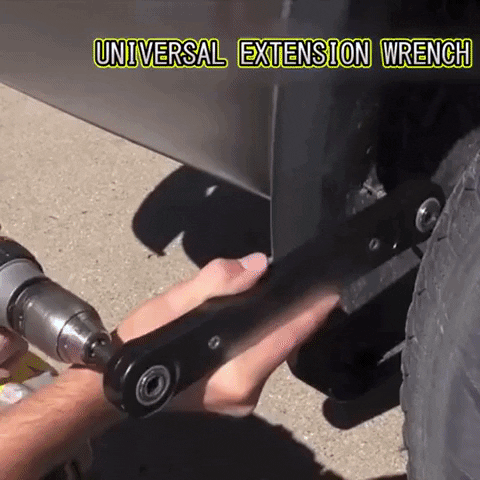 Time and Energy Saver: The light-duty extension bar transfers maximum torque from the wrench to nuts and bolts and keeps your hands and knuckles away from hot objects or tight spaces making that awkward nut or bolt easy to remove. The chain-driven mechanism of ratchet extender increases smoothness during use and enhances the durability of the wrench. Get the job done quicker!

Finely Engineered: Designed to extend your wrench with another wrench or power bar giving more leverage on stubborn nuts and bolts

Multi-purpose: You can loosen the nut, you can tighten the nut, you can take out the screw, you can tighten the screw.

Ingenious Design: A great tool for the repair industry, equipped with 1:1 chrome vanadium gears and used with a variety of adaptors.

Light And Compact: MagicWrench™ Fits in nicely in the corner of your toolbox

Durable and Sturdy: This innovative and useful MagicWrench™ is durable, efficient & safe.
Please allow 10-24 business days for the item to arrive. Please note: due to the ongoing global COVID-19 pandemic, some minor delays in product delivery are possible, we are doing our absolute best to make sure you get your products as soon as possible.
---