---
---
Keep Your Hands Safe From Possible Virus-contaminated Door Handles, Elevator Buttons, Etc With This Non-contact Self-sterilizing Door And Elevator Stick! This Life-Saving Tool Can Avoid Direct Contact Between Your Hands And Viruses When Opening The Door Or Pressing The Elevator Button.  Is Self-sterilizing And Reusable, Excellent For Public Places, Small In Size, And Easy To Carry Anywhere.
---

A Life-Saving Tool: The most common way of virus spread is when people touch surfaces that have been contaminated by an infected patient. This work by someone who has the disease coughing or sneezing on their hand, then touching the doorknobs and lift button while they have the virus on their hand. Staying protected means also protecting your loved ones and those around you. 


Self-sterilizing and Reusable: Finely engineered with sponge pads inside to absorb disinfectant, which provides this tool with a complete self-disinfection after use and prepares for the next time use.


Premium Quality Materials: Made of high-quality ABS material that is durable, smooth, and solid to use.

Keep The Germs At Bay:

Portable and Small: Lightweight, compact, and portable. It fits perfectly in the palm of your hand. 

HOW TO USE:

Note: Item does not come with disinfectant, kindly add 4-5 drops of disinfectant before use.
Open the front cover and use it to press the elevator button. It comes with a sponge for adding disinfectant, so it will kill germs & pathogens every time you use it.

Open the side cover and use it to clip the door handle, so you don't have direct contact with it. It comes with a sponge for disinfectant and will kill germs & pathogens every time you use it.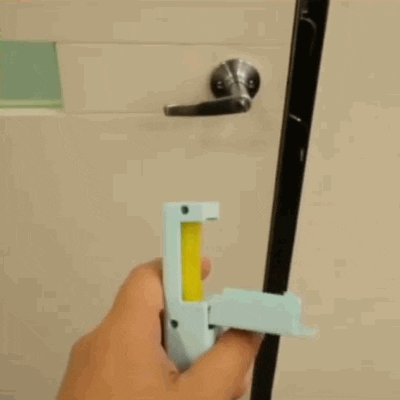 Specifications:
Material: ABS
Color: Pink, Blue
Size(LxW): About 11.5x2.5cm/ 4.5x0.9 IN
Package includes: 2 x SuperStick ™ Self Sterilizing Multipurpose Touch-less Door Opener 

Please allow 10-24 business days for the item to arrive. Please note: due to the ongoing global COVID-19 pandemic, some minor delays in product delivery are possible, we are doing our absolute best to make sure you get your products as soon as possible.
---