---
---
Are you concerned about your pet's not drinking enough water?
Our Flower Pet Water Fountain can help you solve that problem!
Choose between 3 different flowing modes and adapt to the drinking habits of your pet. 
It is scientifically shown that pets prefer to drink running water. They are stimulated by the movement which makes the water more appealing to them.
---
Features:
Encourages your pet to drink more, which helps prevent urinary tract diseases.

It comes with replaceable filters that detoxifies and purifies the water
Made of BPA-Free Materials
Low power usage
Allows 3 water flow settings


Encourage your pet to drink more
Staying hydrated and drinking regularly is important for your pet's health as it helps ensure proper kidney function and prevents crystal formation that can lead to urinary tract diseases.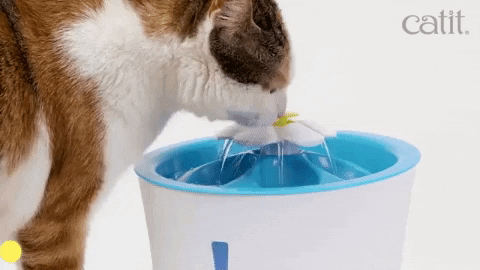 Clean water at all times
Unlike regular bowls, the Flower Fountain pushes only purified, running water to the surface using a triple action filter that prevents your pet from having access to dirty water. (only 1 filter is included in the package)


Includes Triple filtration system to help prevent urinary tract diseases
The Triple Filtration System removes unnecessary minerals such as magnesium and calcium from regular tap water. These minerals can accumulate in your pet's lower urinary tract and lead to infections and urinary tract diseases, which is a common health issue for dogs and cats. Active Carbon removes bad odors and germs, and retains unwanted hairs, sediment and debris.

Comfortable and functional design
The Flower Fountain's 1.6 L (54 fl oz) water tank was designed to take up as little floor space as possible. Its 360° round-shaped design can serve up to 3 pets at a time, without water being spilled all over the carpet or floor.  
Specifications:
Pump voltage: AC 12V
Cable length: 1.8M / 5.9 ft
Water capacity: 1.6L (54 ounces)
Power Plug: US Plug / EU Plug  / UK Plug /  AU Plug 
Package:
1pc Pet Waterer

1pc Head 

1pc Charcoal Filter

1pc AC Adapte

1pc Submersible Pump

1pc Instruction Manual

(

Silicone Pad not include)
Please allow 10-24 business days for the item to arrive. Please note: due to the ongoing global COVID-19 pandemic, some minor delays in product delivery are possible, we are doing our absolute best to make sure you get your products as soon as possible.
---