---
---
Save time, money, and water! This innovative faucet head attaches with easy installation to your kitchen tap and features 2 infrared sensors for hands-free activation, preventing cross contamination, and reducing your water bill.
Just hold your hands under the Instant Mode bottom sensor and water will flow until you take them away again. Move your hand once past the Flowing Mode side sensor and water will run until you trigger the sensor again, or automatically after 3 minutes.
---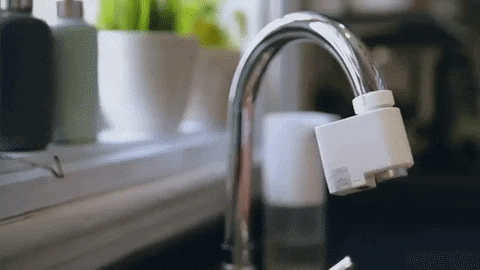 Just charge it with micro-USB and install it and you're ready to save water and make your kitchen activities easier.
BENEFITS:
✔ Saves more than 50% water
✔ Reduces the cost of your water bill

✔ Prevents germs and cross contamination
✔ Easy to install
✔ Up to 6 months of use with a single charge
✔ Made from durable ABS material
✔ Fits most US, UK, EU, CA, AU faucets (6x adapters included )
SPECIFICATIONS:
Weight: 105g
Size: 6 × 3.4 × 4.9cm / 2.36" × 1.33" × 1.92"
Standby energy consumption: 0.2mW
Working water pressure: 0.05-0.8MPa
Working water temperature: ≤75°C
Sensing range: Flowing Mode side sensing 0-5cm / Instant Mode bottom sensing 0-10cm
Charging method: Micro-USB
Adapters included: M20 internal thread, M22 internal thread, G1/2 internal thread, M20 external thread, M22 external thread, M24 external thread
PACKAGE CONTENTS:
1x Smart sensor
1x installation wrench
3x sealing rings
6x adapters
1x manual
Please allow 10-24 business days for the item to arrive. Please note: due to the ongoing global COVID-19 pandemic, some minor delays in product delivery are possible, we are doing our absolute best to make sure you get your products as soon as possible.
---