---
---
Are you constantly organizing sofa cushions, carpets, chair covers, decorations, and curtains so they stay in place?
Tired of not being able to hang things on the walls because you don't want to ruin their appearance? Are your pets accidentally dropping your decorations to the ground and breaking them?
Use this Strong Adhesive Double-Sided Fiberglass Mesh Tape and swiftly secure everything you require on any surface. This mesh tape is transparent and easily matches any background color.

Save money and save your wall from being ruined by nails and drilling. Stay safe by securing that carpet so that nobody slips on it. Keep together curtains, sofa covers, cushions, decorations, and more! This useful double-sided tape will allow you to easily fix what you need without leaving any marks on the surface.
Get this Strong Adhesive Double-Sided Fiberglass Mesh Tape to start enjoying an organized and safe home!
---

What you'll get:
Strong adhesion: This tape contains stickiness on both sides. It also has a mesh pattern built in to firmly stick to an item and prevent it from falling.


Easy to use: Using this mesh tape is a breeze. Simply secure the tape with an item and tear the releasing film from it. Now you may put it wherever you like.


Multi-usage: This double-sided mesh tape with a strong adhesive works in a variety of applications. You can conveniently use it in your home for DIY projects, in your study room, or kitchen to hang things. In addition, you can use it to ensure that things like carpets and foot mats stay in their place.


Spotless walls: This tape doesn't leave any mark on walls and keeps their beauty intact.


Transparent design: The crystalline color of this tape ensures you to freely attach it anywhere.
Safe Decorations: Stop your pet from accidentally dropping vases and other decorations on shelves by pasting them to the surface so they stay put.

Features:
* Matches any background
* Secures things strongly
* Protects the walls & leaves no stains
* Drill-free & Punch-Free
* Moisture-proof
Specifications:
Size: 5M/196.9 or 10M/393.7 inches long 
Width 5cm/1.969 inches
Thickness: 0.22 mm
Transparent color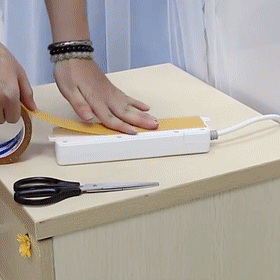 Please allow 10-24 business days for the item to arrive. Please note: due to the ongoing global COVID-19 pandemic, some minor delays in product delivery are possible, we are doing our absolute best to make sure you get your products as soon as possible.
---