---
---

Keep Your Hands Clean And Free Of Germs! Mopping The Ground And Cleaning Your Mope Has Never Been So Easy!!! With This Brilliant Mop, You Will Leave The Floor Completely Beautiful And Clean. Designed With Super Water Absorption, 360 Degrees Rotation, Extendable Handle, And Easy To Clean Hard-to-reach Areas, This Cleaning Mop Is Amazing!
---


YOU WON'T SQUEEZE YOUR MOP BY HAND ANYMORE!!

Touchless & Hands-Free: Keep your precious hands clean and free of germs, this mop will do everything for you. You don't need to wring out by yourself, this automatic mop will take care of everything. 


Hygienic: You never have to stick your hands into a dirty mop bucket to squeeze out excess water because the design of this mop does it for you!


Multipurpose: It not only works on floors but can be used to clean ceilings and walls, too!


Extendable Handle: The extendable handle makes cleaning easier in hard to reach areas.


Flexible Microfiber Mop Head: The Special Microfiber Mop Head is finely designed to absorb the greatest amount of water and leave your floor completely beautiful and clean.


Clean Hard-To-Reach-Areas: It can clean hard to reach corners and places that are not usually easy to reach or clean



Easy To Use: This amazing Hands-Free X-Type Microfiber Floor Mop makes cleaning easier than ever before!



360 Degrees Rotatable: Designed to be flexibly rotated by 360 degrees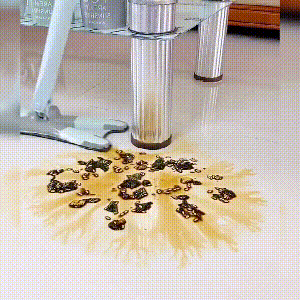 Machine Washable: You can also choose to wash them in your washing machine if you prefer.


Specifications:

Capacity: 301-500ml
Wringing Method: Four-side Wringing Type
Handle Type: Telescopic
Head Shape: X shape
Weight: <2kg
Mop Head Material: PP
Pole Material: STEEL

Package Includes:
*1 TouchlessMop™ Automatic Wring Out Mop
* 3 Mopheads

Please allow 10-24 business days for the item to arrive. Please note: due to the ongoing global COVID-19 pandemic, some minor delays in product delivery are possible, we are doing our absolute best to make sure you get your products as soon as possible.
---