---
---
Prevent The Spread Of Germs And Bacteria And Keep Everyone At Home Safe!
This Innovative Automatic Soap Dispenser With An Ultra-modern Design Is The Latest Hygienic Technology To Keep You Free Of Germs And In Good Health! Comes With Leak Prevention Feature, Smart Infrared Sensor, Waste Prevention, Volume Adjustable, And Advanced Water Resistance.  This Convenient, High-range Product Is Perfect For The Sophisticated, 21st Century Home.
---

Touchless Dispenser: Hands-free operation for improved hygiene and food safety
Smart Infrared Sensor: Infrared sensor detects hands from the perfect distance so that you can easily and effortlessly wash your hands without touching the dispenser.
Fast Foaming: Instantly turns your liquid soap into the foam for a more comfortable user experience.
Prevents Waste: No need to worry about wasting soap. Save tons of money on soap and avoid waste with its Fast Foaming feature. It dispenses a fixed amount of soap each time, so you won't need to worry about wasting soap, or not getting enough on your hands when in a hurry. 
Volume Adjustable: It dispenses the perfect amount of foam so whether you've used the bathroom, been working with raw meat, or have been doing DIY or gardening, your hands are guaranteed to get 100% clean. 
Premium ABS Material: Constructed with ABS plastic to guarantee safety and durability.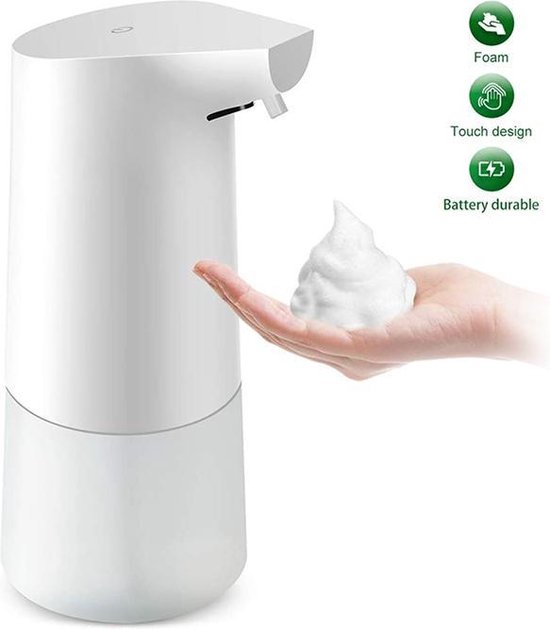 Portable and Versatile: With its battery design you can easily take it with you when camping, traveling, or whenever you need to use it in any other place around the house.
 Easy To Use:
Specifications: 
Material: Premium ABS and PC
Capacity: 350ml/ 11.8 Oz
Product size: top 10*8.4*20.7cm/ 3.9x 3.3x 8.1 IN
Please allow 10-24 business days for the item to arrive. Please note: due to the ongoing global COVID-19 pandemic, some minor delays in product delivery are possible, we are doing our absolute best to make sure you get your products as soon as possible.
---