---
---
Bring Your Garden Back To Life At Night!
With These Garden Pathway Solar LED Lights That Offer 3 Lumens For A Light Brightness On The Exterior Of Your Home.
They Add Safety And A Soft Glow To Your Outdoor Structure Making Night Strolls Safe For The Family.
Designed To Be IP65 Waterproof, Wire-free & Auto On/Off, They Will Help You Save Tons Of Money On Electricity Bills!
---

Solar Powered 
High-quality polysilicon solar panels, durable ABS casing, long life of solar cells, as long as the sun exists.

 

IP65 Waterproof: 
These LED Solar Lights are 100% waterproof, will continue working during storms and rain successfully.

Auto On/Off: 
Turns on automatically when the sun sets and turns off when the sun rises. Only takes about 4-6 hours to fully charge on a sunny day. Operating time: 8-10h.

Safety: 
Stay safe, avoid falling, and enjoy your outdoor spaces at night. Place these wireless lights wherever you need illumination.


Save Tons Of Money On Electricity Bills:
Powered by the Sun. The only outlay is the original cost, after that it's free solar electricity. 

Wire-Free: 
No wiring required which means you have absolute freedom to place the lights anywhere you need without worrying about cables or electricity plugs..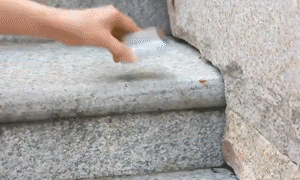 Two Ways for Easy Installation: 
Mounts along with any edge, you can fix it with two-sided tape or the screws included.

Wide Use:
Quick installation on the road, steps, decks, driveways, gardens, sidewalks, backyards, etc.



A fascinating Decoration:
The warm bright light, just the right amount of warm glow decorates your house or gardens beautifully, enough to light up your yard and not feel the glare. The lights are waterproof and work well even after scorching sun and storms. 
Specifications:
Solar panel: 2V/100mAh polysilicon
Light color: white/ warm white light
Product color: Black/ Brown
Light source: 1x high brightness LED
Lighting time: 8 hours (after full charge)
Material: PVC+ABS
Battery capacity: 600mAh nickel-metal hydride battery
Size: 80*45*40mm/3.15*1.77*1.57"
Weight: 222g
Waterproof rating: IP65
Application: courtyard / park / balcony, etc.
Package includes: 4 x GardenGuard™ Waterproof Pathway & Stairs Solar LED Lights


Please allow 10-24 business days for the item to arrive. Please note: due to the ongoing global COVID-19 pandemic, some minor delays in product delivery are possible, we are doing our absolute best to make sure you get your products as soon as possible.
---