---
---
This 2020, Ultraviolet Sterilization Became A Front Line Technique For Avoiding Viral & Bacterial Spread.  Its Portable, Light-weight, And Compact Design Make GermTerminator™ Your Best Home And Traveling Companion. Comes With A 2200 Mah USB Rechargeable Battery, And The Highest Quality Materials To Protect You And The Health Of Your Loved Ones
---
Kill Any Virus, Bacteria, Mold, Or Pathogen With The Ingenious GermTerminator™!
Scientifically Proven: Scientists and medical professionals have used UV light to kill germs and sanitize equipment for over 100 years. The process is called ultraviolet germicidal irradiation (UVGI).



How Does It Work?
Unlike harmful chemical approaches to disinfection, UV light provides rapid, effective inactivation of microorganisms through a physical process. When bacteria, viruses, and protozoa are exposed to the germicidal wavelengths of UV light, they are rendered completely incapable of reproducing and infecting.

Your Best Travel Companion: This amazing device will keep you protected and let you easily disinfect anything on the go.
Ultraviolet Germicidal Irradiation: ultraviolet sterilization became a front line technique for avoiding viral & bacterial spread, this innovative LED UV disinfection lamp will protect you and your loved ones easily and effortlessly.

Powerful and Effective: extremely useful in many different scenarios such as disinfecting silverware at a restaurant, disinfecting your phone in a pinch, or small objects that can be illuminated all at once by the device.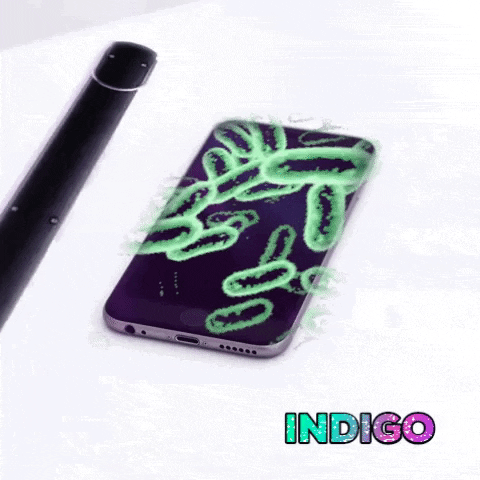 360 Degrees Rotatable Magnetic Base: Allows you to easily attach the lamp to any metallic surface and avoid having to hold the lamp with your hands. The base can rotate 360° to provide the optimum lighting angle.

Functional Hook Design: Comes with a useful hanging hook to hold the lamp while it disinfects the area.


Eliminate Bad Smells and Odors: destroys odor-causing bacteria, reducing the bad smell that pets and dirty kitchens can produce.

Stay Safe From Toxic Chemicals: Get rid of viruses, bacteria, and mold without using toxic chemicals by utilizing the UV Sterilizing Lamp! This light is one of the most efficient ways to quickly and easily disinfect any surface by killing microorganisms with powerful UV rays 


USB Rechargeable Battery: Which makes it ideal for use anytime and anywhere! Simply plug it to the USB cable (the device is rechargeable and doesn't need to be plugged to USB during use)
Intensity Switch: The unique dial switch lets you control the intensity of the lamp.

Easy To Use: Simple operation, just press the switch button to sterilize. (Avoid pointing the light at your face or eyes)
Specifications:
Average Life (Hrs): 5000h
Power: 2200 mAh USB Rechargeable Battery 
Size: 37.2cm x 3.3cm x 2.6cm/ 14.6 IN, 1.2 IN, 1.0 IN
Number of lamp beads: 30 Led's

Types of bulbs: COB (chip on board)
Package includes:1x UV light  1x USB cable

Please allow 10-24 business days for the item to arrive. Please note: due to the ongoing global COVID-19 pandemic, some minor delays in product delivery are possible, we are doing our absolute best to make sure you get your products as soon as possible.
---